Looking to expand your career? You've come to the right place! A career with Scramblers guarantees to be a fast paced, lucrative, and rewarding opportunity. Read through the position descriptions below to find your best fit and then follow the steps to apply!
Server
A fast and friendly server can turn a first-time guest into a lifelong regular. At Scramblers, our servers are committed to going above and beyond to provide exceptional service and ensure that every guest has an enjoyable dining experience. Job responsibilities include: greeting guests, taking and delivering guests' orders, anticipating and responding to guests' needs in a prompt and friendly manner, processing guests' payments and, of course, inviting them back to Scramblers.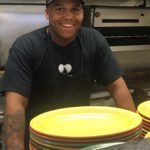 Line Cook
Original recipes, fresh ingredients and quality food are at the foundation of Scramblers. Our line cooks work quickly and efficiently to bring those original recipes to life and wow our guests with the best breakfast in town. Job responsibilities include preparing ingredients for service, cooking menu items according to Scramblers recipes, setting up and stocking stations with necessary supplies and maintaining a clean line.
Host
As the first person guests encounter at Scramblers, hosts are an important part of our guests' dining experience.  Each host is a personal representation of our commitment to first-class hospitality, so making a great first impression on our guests is key. Job responsibilities include: cheerfully welcoming guests to Scramblers, monitoring the table rotation, tracking which tables are clean and available, seating guests, and accommodating specific guests' needs.
Busser
At Scramblers our bussers do a lot more than clear dirty dishes off tables. They are the behind-the-scenes team players that keep our operation running like a well-oiled machine. A Scramblers busser job is to clean tables quickly and efficiently, so we can clear the lobby and get the next guest seated for an amazing Scramblers experience. Job responsibilities require high energy, efficient work rate, communication with coworkers, speed, and professionalism.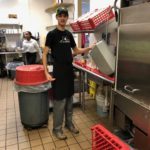 Dishwasher
At Scramblers our dishwashers are behind-the-scenes team players that do a lot more than push dishes through a machine. Our dishwashers help us offer a safe and sanitary dining experience to our guests and make the whole Scramblers operation possible. Job responsibilities include providing the cooks and dining room staff the ability to serve our guests with clean, sanitized dishes, small wares and silverware.
General Manager
The General Manager position at Scramblers is a demanding position offering the opportunity to make the single most significant impact on the sales volume and profitability of the store as well as the quality of service to Scramblers patrons. This position will be responsible for managing all areas of the restaurant including staffing, budgeting, inventory, training, purchasing, compliance, etc., all while ensuring guest's needs are always met.
1)
Fill out our online application below, and the manager of your preferred location will reach out to you to schedule an interview.
2)
Print out the following PDF, fill it out, bring it to your local Scramblers and meet with the store manager.